Total isolation (and how to avoid it)
Welcome to our new theme-oriented, limited edition, limited run newsletter on working from home. Somehow, this feels even more timely now than it did last week.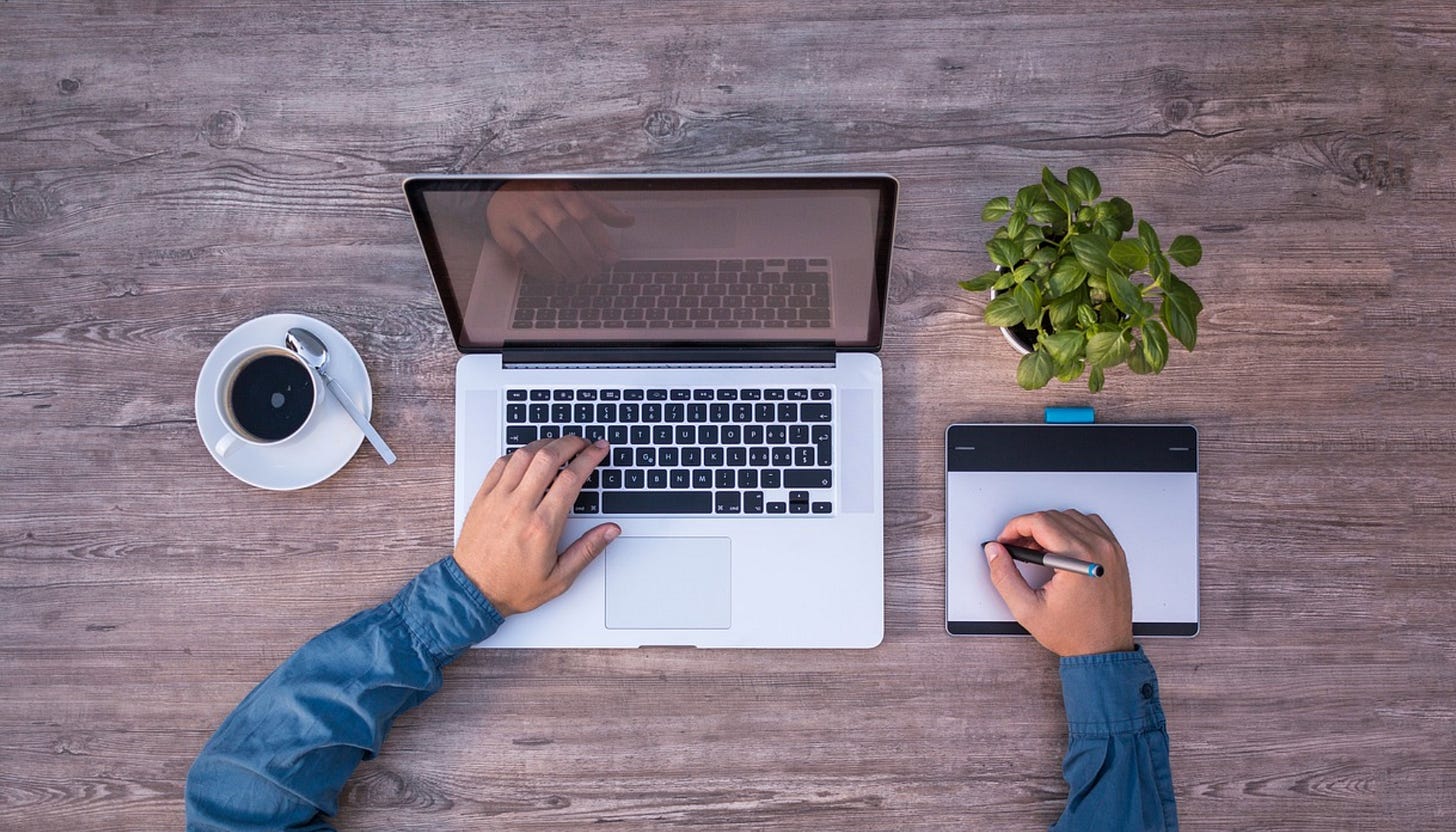 Welcome to Understandably: Working From Home! This is a limited edition/limited run email. It will probably run a couple of times a week for a few weeks.
(If there's demand and I can manage it, I'll do more; if not, I won't. That sounds about right.)
If this is successful however, I think it will be because of you, the readers— contributing and leveraging this as a bit of a community.
(More on that below. Here's a link to the comments section, so you have it.)
[UPDATE: Ability to leave comments should be fixed now. Sorry about the problem before.]
Today we'll talk about a Stanford study on working from home, the 300+ replies I got to an inquiry and how often the idea of "isolation" came up, and how to tell me what you hope we'll be exploring. Plus my 1 good tip.
The Stanford study
Let's start with something I've written about before: a controlled Stanford study measuring (a) productivity of people who worked at home and (b) their colleagues doing basically the same job in an office.
The study involved call center workers, so your mileage may vary. Results:
Employees working at home were 13.5 percent more efficient than their colleagues.

They were also 9 percent more engaged then their colleagues in the office.

They reported higher job satisfaction, and attrition rates were 50 percent better among those working at home versus those in the office.
But, there's a big caveat: Despite the stats above, when the study ended, half of the people who had been working from home wanted to go back to working in the office.
"In follow-up interviews, most of the interviewed employees who had decided they no longer wanted to work from home cited social reasons." (link: pdf)
Isolation (and 'isloation')
If you came over here from the main Understandably daily email newsletter, you might recall that I asked for work-from-home tips (thinking at the time I might do 1-2 articles), and I got more than 300 replies.
Add it all up and it runs almost 90,000 words together. But, I ran a word search on the whole thing. Here are some words that come up over and over: "isolation," "alone," "lonely," and "loneliness," for example.
Even a misspelling or typo—"isloation"—came up in three separate replies.
So, I think that's going to be a big part of this. We can and will talk about technology, work-from-home setups, maintaining structure—plus, the additional weird circumstance that many of us are now working from home while our entire families are home with us.
(My wife is basically running a pre-K downstairs for our daughter, for example, due to our town closing schools for between two and five weeks. As soon as I'm done with this, I'll go join them for a while.)
By my sense is that isolation and disruption are the two biggest issues.
Don't forget to sleep
So with every edition of this, I'll make an effort to ask at least one open-ended question, to start a discussion.
You're free to reply to me (and perhaps be included in the next edition), but I also want to encourage people to offer comments. (Again: this should be the link to the comments section.)
For today, I'll share one of my tips after a decade of switching back and forth from working from home to working in an office: It's to schedule time to sleep.
Writing that seems odd, but I've found that it's so easy for me to get distracted and do non-work things during the day when working from home, and having to make up the time late at night.
That pushes back bedtime, but it doesn't delay waking-up time the next morning.
I never would have imagined this would be an issue, but it became a big one.
With that…
Those of you who have worked from home for a while, what surprising things have you learned to make yourself happier and more productive?

And for everyone: What topics would you like to see us address in this newsletter?
Again: You can respond to me, or you can comment below the story.
7 other things worth your time
Yeah, we'll do this here too. I think so, anyway. :)
I don't really love that photo, but I keep having Internet troubles so we'll just stick with it, courtesy of Pixabay. Ideas and feedback actively solicited. Signup for the "mother ship" version of Understandably, here, or for Understandably: Work From Home, here.
(You can also just send an email to signup@understandably.com.)
If you liked this post, please share it!
One-click review and feedback: